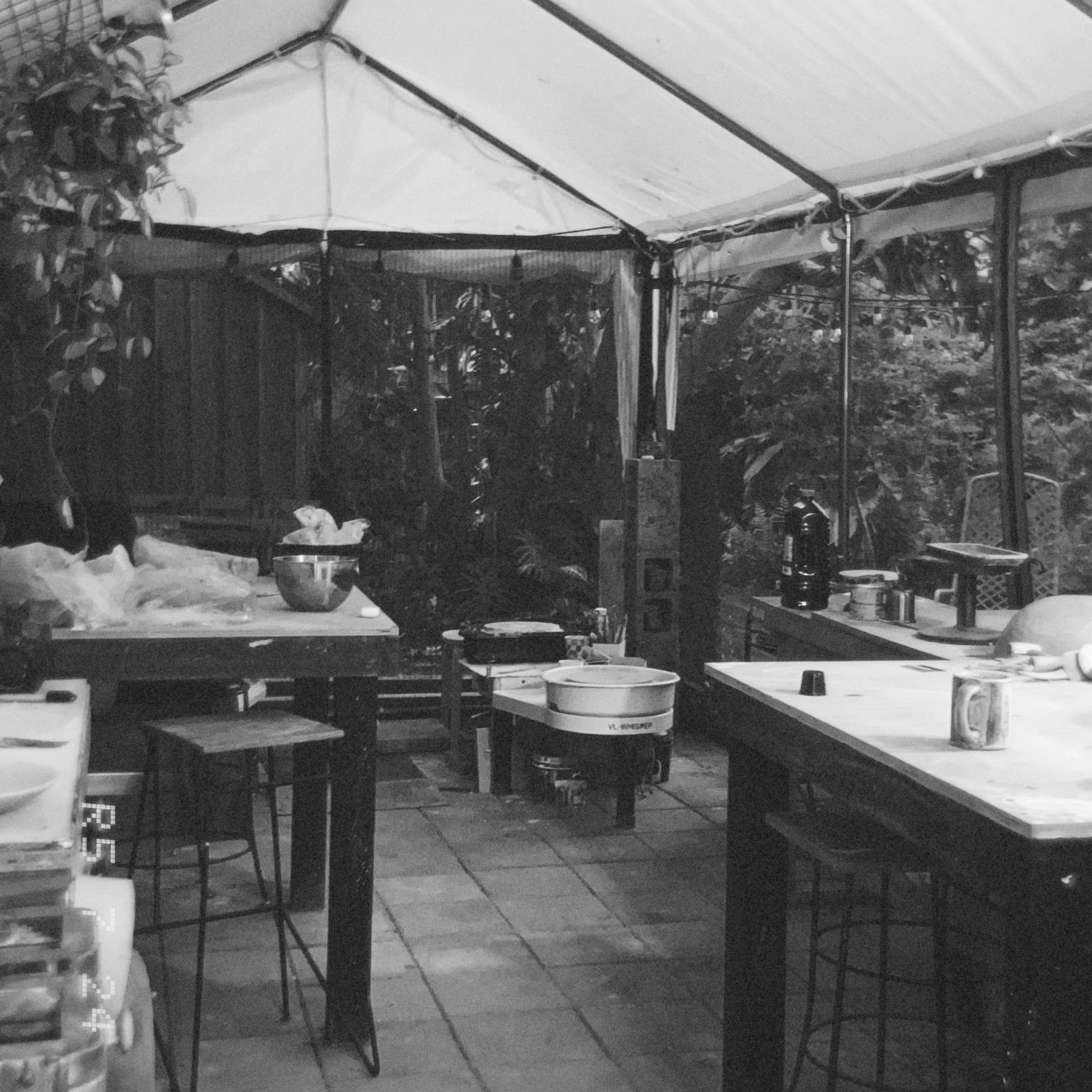 this is a space for making things out of clay, teaching friends how to make those things, and maybe some other things, too.
yes you can come hang out!
we're open for visitors and host wheelthrowing and handbuilding classes throughout the week.
— text or call liza to schedule —
954 459 8006
— frequently asked —
when is the studio open?

we're open by appointment only saturdays through wednesday.

please, no surprises 🙏🏻 text or call us before dropping in — 954 459 8006.
how do i book a class?

you can text liza (954-459-8006) for scheduling, or book a class on the calendar. we'll be in touch asap!
can I bring a friend? how many?

yes, we love making new friends! we have room for four during wheelthrowing sessions and space at the handbuilding table for six. let us know if you'd like to schedule or book a class anytime.
okay so what do you mean outdoors?

we should have called it Ye Olde Florida Botanical Garden and Iguana Preserve…..

dirty lizard studio is a certified wildlife habitat, complete with the birds, reptiles, plants, fruit trees, a watering hole, etc. come prepared for a preserved biosphere in the middle of the city. and just a weatherly warning: we have fans and plenty of shade makes it cool, but please dress accordingly. we're still in florida.

closed toe shoes and lightweight long pants are HIGHLY RECOMMENDED.
BYOB?

of course!!!!! this is a private gathering space, bring whatever makes ya happy.
how do i glaze my pots when they're finished?

you can schedule with us separately or head on over to glazy sunday at the studio on first and third sundays.
where the heck is dirty lizard studio located? is there parking?

we're a located at 2330 monroe street in hollywood, florida in the backhouse. jungle house, gravel drive. parking is available on the street or in the driveway in front of the house. try to avoid the sidewalk, please!
can i buy pottery at the studio?

please do oh my god we are drowning over here
can i work with you guys at the studio 👉🏻👈🏻

yes, to avoid any weird feelings about maybe wanting the house to ourselves we offer day rates that include full access to studio, equipment and tables outside of classes and firing for work made while you're here.

2-4hrs — $25

4-8hrs — $40

saturday-wednesday 2-10pm

we've also got space in the kiln for home potters in the area who need to fire their work.
contact us

call, text or email at reasonable hours pls

heyliza@dirtylizardstudio.com ||

954-459-8006

text first if you can, we may be teaching / making / in the mud.
more about the studio
dirty lizard studio is a place and ongoing project by two south floridian ceramicists, liza quinn furr and nick abrami. together we have around 25 years of collective experience, and after teaching in a lot of different places over the past 10 or so years, recently decided to bring our skills home in june 2023.
we hope to offer a place to nourish, to rest, to learn, and to create, open to beginners and experienced makers alike. 
our studio is located within a half-acre food forest on a plot of farmland that used to supply Hollywood with fresh avocados and citrus — at least, prior to several big hurricanes, a canker blight. now, depending on the season, we have starfruit, avocados, japoticaba, pineapples, so many tomatoes, a perennial herb garden — and we're pretty good at sharing the bounty, too, if you'd like something to munch on. all we ask is that you come prepared to meet mother nature, in all her glory. 
anywho, this place is mostly about clay, nice people, and handmade pots to hold good food — other things may crop up soon, we can't just do one thing, but for now, we'll be here in the studio.
more things coming. stay tuned ✌️