learn how to turn soft clay into functional works of art with hollywood's local potters
B Y O B
we'll set you up at the wheel, give you a basic how-to and demo, and then guide you through the process of centering, pulling, and shaping clay into functional art.
you'll have several tries to make a bowl, cup and/or vase, and add decoration (if you'd like) with stamps, ribs, and texture. 
wheelthrowing at dirty lizard is an intimately creative experience in a not-so-average studio. class occurs outdoors under cover, in full view of our tropical garden — cozy, cute and comfortable.
yo, teach!
more
liza q. furr

liza q. furr is a lifelong floridian, multidisciplinary artist and lizard lover. she started working with clay in 2014 while studying at the university of north florida, where she earned a B.A. in sociology with a minor in ceramic arts, though there's nothing minor about it …
liza taught at several art studios and museums through out broward county before launching dirty lizard studio in june 2023. she usually pinches and coils clay in functional objects, occasionally hopping on the wheel when she's looking for a little excitement. 
what to expect in class: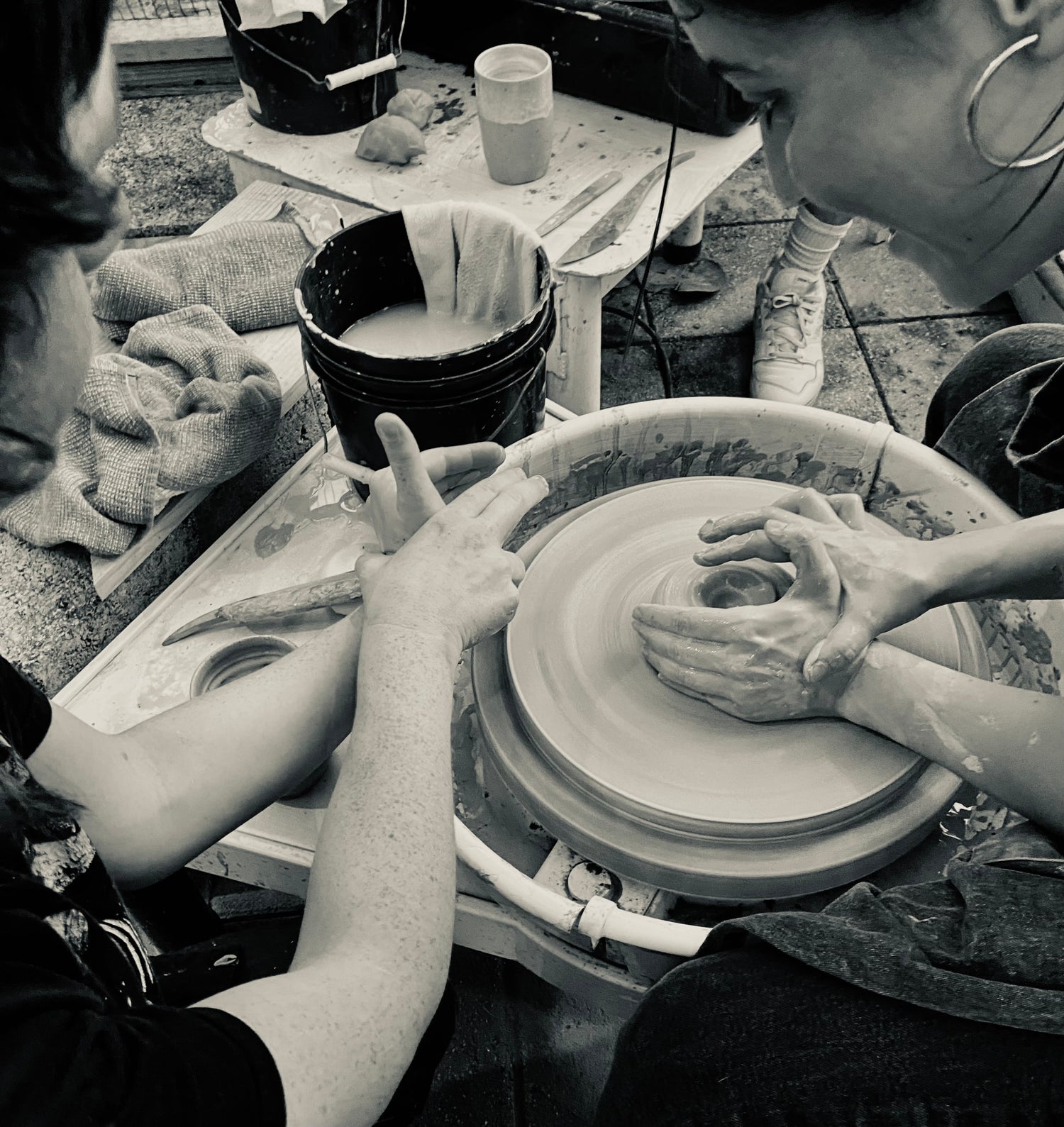 what you'll make:

some beautiful pots with a whole lot of personality!

students generally make 2-3 pieces each — could be bowls, plates, short cups. small vases, etc.
where we'll make it:

class occurs outdoors at our screened + covered backyard studio. expect flora, fauna, and general #florida phenomena. 

don't worry, we won't get rained on and mosquitos won't eat you alive either, but make sure to dress for a mess and the weather.

long pants and closed toed shoes are recommended.

PS… your manicure is gorgeous!!! but not the best for wheelthrowing. short, unpolished nails are ideal for this class! consider a sculpture or dinnerware class if you can't go without!!
what you'll keep:

you'll get to keep any pieces you make, up to three pots each.
how we'll glaze it:

basic white glaze is included, though you can choose to come back and glaze it yourself! all pieces are food-safe once finished.

we'll let you know when pieces are ready to go pick-up (usually about 2 weeks after class or glazing)
when you'll get it:

we'll text you when work is ready! please allow for 2-4 weeks of processing after class.

we appreciate the patience —this is a long process and we try hard to keep a steady schedule but sometimes things happen. we'll keep in touch if so!

we will store work for 45 days after we text you your work is ready!!!

but also: life happens, just talk to us if you can't get back to the studio in that time period and we will figure something out.

however, if we can't get a hold of you, work will have to be sent to alternative storage (don't worry, all pots go to heaven)
if you'd like to come at a different time:

if these times don't work, you can text or call liza — 954 459 8006 — to see if we're available.
Collapsible content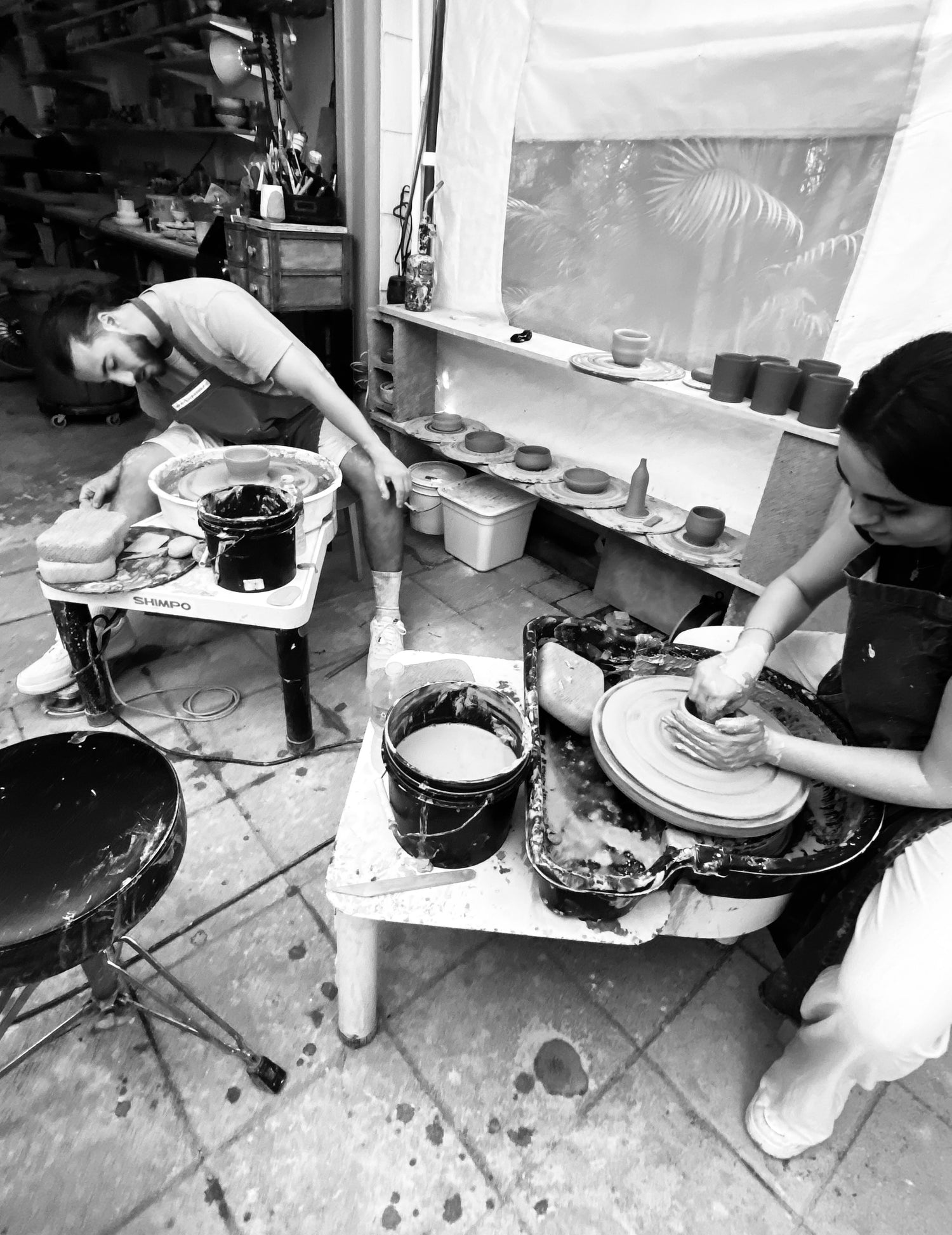 BYOB BABY

you're welcome to bring whatever makes you and your friends comfortable — food, booze, etc. we'll have flat + fizzy water available for ya, too ✨
four wheels // four people to a class

we have a max of four people in wheel classes. please, no walk-ins or surprises 🙏🏻 talk to us first, we'll see if we can figure something out at the handbuilding table if you have a larger party.
how to find us:

you're looking for a jungle house with a gravel driveway + big banyan tree in the front yard.

carpool if you can — we have room for one or two cars in the driveway, but you can also park on the street / swale (not on the sidewalk, please!)
where to go when you get here:

once you've arrived, head to the sculpture at the wooden gate, we'll come open up for ya.